free-outdoor-lighting-ideas
Adding free-outdoor-lighting-ideas in your landscape, will act as a security measure and enhance the look of your property.
First, consider a few things:
Do you have a feature that you want to spotlight?


Is there an area you want to have a floodlight?


Do you have a walk that needs a low level light for safety at night?

Do you need outdoor lighting for a patio or deck?


Do you have a tree that is particularly ornate or beautiful that you want to Silhouette?

Do you want solar lights?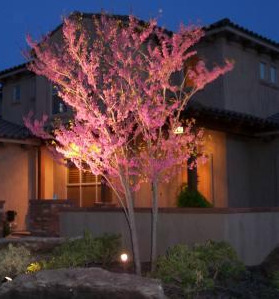 Sometimes you will place the lights high up on the building pointing downward and other times you will place the lights on the ground pointing upwards. This is called up lighting and down lighting.


On a new construction, the lighting needs to be considered so your electrician can wire appropriately.
Lighting can be an issue of safety and security. Burglars and thieves are not as likely to bother a well lighted home or business, as opposed to a dark unlighted area or building.
Special effects can be accomplished with lighting, making your home distinctive in your neighborhood. To direct someone to your home at night, you simply tell them to come to the house with the "4 spotlights on the front", or "to the lighted tree".
Have fun with lighting your property.

Desert landscaping ideas
Top of Page...free-outdoor-lighting-ideas
Home